Daily Motivation - Blue Sapphire 100ml Squat Diffuser Bottle (Box of 6)
Regular price

€12,71

Sale price
GLASS-PL-9390-6
This product is being discontinued. once it is gone, it will not be restocked.
Let this positive message sink in with our 100ml Daily Motivation Diffuser Bottle. Though winter days are cold and dreary, we believe in you! And so will you when you're reading the I Can And I Will message on this dazzling diffuser bottle.
This design is available in our 100ml Squat Diffuser Bottle in sapphire blue. All our laser-etched designs are made with our in-house laser systems. While our EU warehouse has limited stock, we can accommodate bigger orders by contacting our customer services at support@candleshack.com.
Dimensions:
Outer Diameter (Top) - 6.95cm
Outer Height - 7.91cm
Outer Diameter (Bottom) - 6.95cm
Bottom to neck - 5.85cm
*Please do not wash this product as it might damage the glass. Clean with a soft warm damp cloth.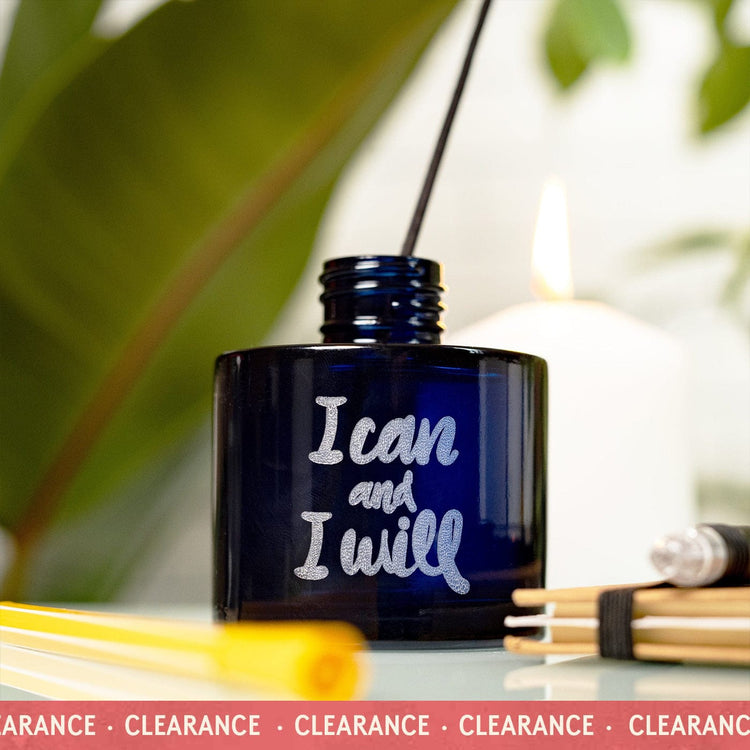 Add Your Caps, Diffusers & Bases
Shop Diffuser Caps

From metal to wood, we've got the diffuser cap for you. The diffuser cap is the finishing touch to your masterpiece so choose carefully. Made from responsibly sourced high-grade materials, they are designed to secure your diffuser and enhance its performance.

Explore collection

Shop Diffuser Reeds

Whether you are a fan of fibre reeds or a staunch supporter of rattan reeds, we've got your back. Our collection of high quality diffuser reeds is curated by fragrance experts to make sure your fragrance is properly dispersed.

Explore Collection

Shop Diffuser bases

From the ever popular augeo to a powerful vegan option, we have the bases you need to get started with diffusers. If you're feeling experimental go for perfumers alcohol and create a blend of bases to maximise scent throw.

Explore collection