Premium Starter Kit - EcoSystem RCX (Rapeseed & Coconut Wax Blend)
BUNDLE001
Ready to start your candle-making journey? The first step, getting your studio kitted out and making a candle that burns perfectly and smells amazing! That's what you'll get with our EcoSystem RCX starter kit. You'll get all the supplies and equipment you'll need to make 10 beautiful candles with tools that you'll be able to reuse again and again.
Worth €200 (incl. VAT), our starter kit is the best way to dive into candle-making. We've chosen fragrances with recipes and recommendations developed by our in-house lab, with recipes and recommendations so you'll know just how much wax and fragrance you need to add to get your perfect candle. You can save these handy PDF guides if you want to make that candle again. As a bonus, our starter kits have tailored videos that outline the step-by-step process of how to use your recipes and work with your equipment. Our CEO and Head of Innovation, Duncan, will get you comfortable with the concepts of candle-making and talk you through the process. We'll email you a link to access your video after you purchase your kit! 

Our kit contains EcoSystem RCX, our most popular plant-based wax designed by Candle Shack. We've worked hard to perfect this wax to help you make sustainable candles. We've also included a Chandler & Me Candle Maker Plus + in your kit. It's a highly sophisticated piece of equipment that was designed to work with plant waxes. It'll melt your wax to the perfect temperature, let you know when to add fragrance and beep when your candle is ready to pour (it was made for 464 wax so you'll have to wait a little longer for the RCX to cool). The dream assistant for candle makers everywhere! 
We've also added four of our customer's favourite fragrances: Pink Pepper & Rose, Lemongrass & Ginger, Paradise Beach and Dark Honey & Tobacco. Explore more about the wax and the fragrances below.
What's In The Kit?

1 box of 6 clear 30 cl glasses
1 box of 6 amber 30 cl glasses
50g pink pepper and rose 
50g lemongrass and ginger
50g paradise beach 
50g dark honey and tobacco
1 wick press
1 10 pack adhesive wick pads
3 wick claws (the three jar wicking tool)
C12 wicks
CL14 wicks
Chandler & Me Plus +
3 x 800g of RCX
More on EcoSystem RCX

Introducing our EcoSystem Rapeseed & Coconut (RCX) natural wax blend.  This wax is blended in Europe exclusively for Candle Shack and is made from rapeseed oil and coconut oil and nothing else.  It is completely free from paraffin, soy, palm, beeswax and synthetic additives.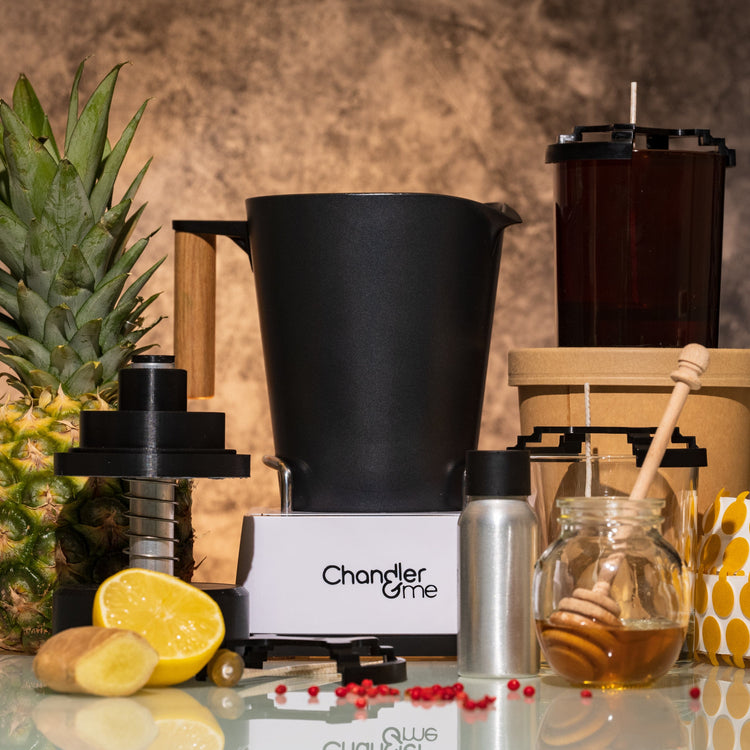 Explore The fragrances
Our favourite part of candle-making - the fragrance! Your starter kit comes with four stunning fragrances that each come with its own recipe. We'll email you the recipes but you can download and store them from here if you'd like. Discover each of the four fragrances below.
Pink Pepper & Rose
Come and explore the romantic and peaceful walled garden that is our Pink Pepper And Rose Fragrance Oil. Greet your senses bouquet of blooming roses complimented by the rich fruitiness of damson plum and blackcurrant. This fragrance easily turns any room into a luxury hotel lobby with it's sumptuous florals.
Paradise Beach
Put the lime in the coconut and drink them both up. When we're in need of a tropical escape, we turn to our Paradise Beach Fragrance Oil - a cool and relaxing scent to reset the blues. From delicious sweet citrus to cool milky coconuts and even vanilla, this fragrance oil blends everything together in a calming breeze of delicious aromas.